Conference Speakers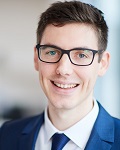 Gil Stevens
External Relations & Sustainability Director, EDANA
BIOGRAPHY
With Master's Degree in Product Development and in Environmental Science, Gil started his career as product engineer in the building industry. Pursuing his passion for sustainability, Gil joined the Cradle to Cradle (C2C) Platform in 2012, where he has been guiding companies in different sectors, such as textiles, cleaning agents, building, office equipment towards the integration of C2C and preparing them for a circular economy. As sustainability coach at Sustenuto, Gil supported organisations in developing and implementing a sustainability strategy. At the beverage group Spadel Gil's responsibilities included the coordination of local CSR representatives at the various European sites and external CSR communication. Gil currently has responsibility for managing sustainability and maintaining external relations for EDANA. During his career, Gil also concluded an Executive MBA program at the Antwerp Management School.
---
Thursday, September 30
8:30 am - 9:35 am
Government/NGO Challenges to Single-Use Plastics
European Single Use Plastic Directive
• Harmonization across the EU:
o marking requirement implementing regulation
o which impact will guidelines have on the freedom of material composition?
• Single Use Plastic Directive implementation at national level
• What to expect from the extended producer responsibility requirement?