Conference Speakers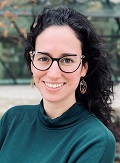 Valentina Prado, Ph.D.
Senior Sustainability Analyst, EarthShift Global LLC
BIOGRAPHY
Valentina brings extensive expertise in developing decision-analysis tools for life cycle assessments (LCA), and hands-on experience in the Sustainable Return on Investment (S-ROI) assessment methodology. Her research focus has been in the incorporation of decision analysis to the interpretation stages of comparative LCAs, and tackles issues of normalization, weighting and uncertainty.
Prior to joining EarthShift Global, Valentina was an assistant professor at the Institute of Environmental Sciences (CML) at Leiden University in the Netherlands where she taught LCA theory and application in the Master's program of Industrial Ecology. She also supervised MS students in their thesis work. In 2019, Valentina joined the management faculty of Universidad de los Andes in Bogota, Colombia, as a visiting professor.
She conducted several S-ROI workshops for EarthShift Global's predecessor company, and has done groundbreaking work in decision support for LCA which we will continue to extend as part of EarthShift Global's suite of tools.
Valentina holds a BSc with honors in Civil Engineering from Jackson State University, and an MSc and PhD from Arizona State University in Life Cycle Assessment and Decision Analysis. Her work is published in the International Journal of LCA, the Journal of Industrial Ecology, Environmental Science & Technology, and Environmental Modeling and Software.
Based in Bogata, Colombia, Valentina is the main contact for our expanding Latin American presence. Her ample international experience includes LCA projects and academic pursuits in the USA, Latin America and South Africa, and she has lived and worked in Colombia, Canada, USA and the Netherlands.
---
Wednesday, September 29
1:30 pm - 2:40 pm
Process Innovations in Nonwovens
Guiding Environmentally Sustainable Innovations – From Reactive to Proactive Life Cycle Management
When it comes to innovation, can we explore alternative pathways, configurations, applications in terms of their environmental impacts BEFORE we make these decisions in product development? In this talk, I will go over ways organizations can apply life cycle thinking early in the R&D process and this way maximize the environmental potential of their operations and products. This way applying a proactive instead of reactive approach to life cycle management.