Conference Speakers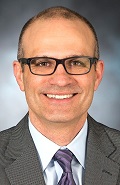 Marc Hillmyer, Ph.D.
McKnight Presidential Endowed Chair, University of Minnesota
BIOGRAPHY
Marc Hillmyer received his B.S. in Chemistry from the University of Florida in 1989 and his Ph.D. in Chemistry from the California Institute of Technology in 1994. After completing a postdoctoral research position in the University of Minnesota's Department of Chemical Engineering and Materials Science he joined the Chemistry faculty at Minnesota in 1997. He is currently the McKnight Presidential Endowed Chair in Chemistry and leads a research group focused on the synthesis and self-assembly of multifunctional polymers. In addition to his teaching and research responsibilities, Marc served as an associate editor for the ACS journal Macromolecules from 2008-2017 and is currently the editor-in-chief of Macromolecules. He is also the director of the Center for Sustainable Polymers headquartered at the University of Minnesota, a National Science Foundation Center for Chemical Innovation.
---
Tuesday, September 28
2:00 pm - 4:00 pm
Increasing Circularity in Nonwovens
Sustainable Solutions for our Plastic Planet Predicament
Over the past century, numerous natural polymers like rubber from the Hevea brasiliensis tree and modified natural polymers like cellulose acetate have been mainstays of modern life. However, their prevalence prior to World War II has been outstripped by petroleum-based compounds with the advent of modern polymers that, almost entirely, are derived from finite stores of fossil resources. Synthetic polymer production from petrochemicals was at its infancy when I was, and over the past 50+ years the global production of polymers has increased by more than a factor of 100, while the population on Earth increased by only factor of two. This rapid and continued growth of the polymer industry has led to innumerable useful technologies and, unfortunately, staggering levels of synthetic polymer trash. This waste is all too visible and the degradation-resistant plastic refuse we don't routinely encounter, for example in our oceans, is wreaking ecological damage far and wide. As polymer scientists and engineers, we have a shared responsibility to reverse course and more carefully consider the origins and fates of the materials that we have a common passion for studying. The challenge is all the more daunting because polymers will continue to play important positive rolls in modern society, and we cannot compromise on performance when it comes the materials of tomorrow. Basic research in field of sustainable polymers is of paramount importance to tackle this challenge. Undoubtably, the basic research discoveries of today will lead to the packaging, construction, household, clothing, automobile, and energy materials of tomorrow. Nobel Laureate Al Gore recently proclaimed, "the evidence now indicates that we are in the early stages of a sustainability revolution that will achieve the magnitude of the Industrial Revolution and the speed of the digital revolution" (New York Times; nyti.ms/32QaBCk). As polymer scientists and engineers, we should lead the way in positively contributing to our slice of such a revolution. In this presentation, I will emphasize the work being carried in the NSF Center for Sustainable Polymers that is focused on this important goal for our shared future.