Conference Speakers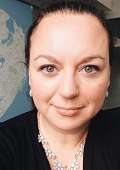 Vanessa Mason
Senior Vice President Of Engineering, PrimaLoft, Inc.
---
Tuesday, September 24
2:00 pm - 3:30 pm
Circular Innovation
The First 100% Recycled, Biodegradable Performance Synthetic Fiber for Textile Applications
PrimaLoft® Bio™ Insulation and PrimaLoft® Bio™ Performance Fabric utilize an advanced fiber technology which allows for highly accelerated biodegration under certain environmental conditions. Made from 100% post-consumer recycled polyester (rPET), PrimaLoft® Bio™ fibers biodegrade when exposed to specific environments - such as a landfill or the ocean. Primaloft optimizes and enriches the polyester without changing the molecular structure of the polymer. The unique technology makes the fibers more attractive to the naturally-occurring microbes found in these environments. The microbes consume the fibers at a faster rate, returning the fabric or insulation to naturally occurring elements such as water, methane, carbon dioxide and biomass (expired microorganisms, organic waste).
Independent laboratory test results show 86.1% biodegradation in 499 days under ASTM D5511 conditions (accelerated landfill simulation) and 57.4% in biodegradation in 486 days under ASTM D6691 conditions (accelerated marine simulation). PrimaLoft® Bio™ fibers will only biodegrade when exposed to naturally-occuring microbes in landfills or bodies of salt water, thus, the fabrics remains highly durable throughout its usable lifecycle in a garment. As a result, this breakthrough helps to minimize the growing problem of microplastics littering the ocean, and reduces the amount of plastic mass in landfills. PrimaLoft utilizes the PrimaLoft® Bio™ technology in fiber and filament form for use in the performance outdoor apparel industry. The technology can easily be deployed in polyester for use in other industries as well. As a result of third-party testing, PrimaLoft Bio polyester fibers have proven capable of being chemically recycled, making them the first 100% recycled, biodegradable* synthetic insulation and fabric fibers proven to be renewable for use in a circular economy.