Conference Speakers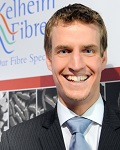 Sebastian Basel
Business Manager Speciality Papers, Kelheim Fibres GmbH
BIOGRAPHY
After his degree in environmental engineering in Augsburg (Germany), Sebastian worked at the Fraunhofer Society for several research projects, investigating future applications of regenerative energies in the Middle East. In 2005 Sebastian joined an international measurement equipment producer for biotech and medical applications, where he took care of the International Sales and Key Account Management for 6 years. Since 2011, Sebastian is with Kelheim Fibres, focussing on viscose short cut fibres for innovative speciality papers and wet-laid applications, including tailored product development for these areas.
---
Wednesday, September 25
8:00 am - 10:30 am
Innovation II
A Fully Flushable Wipe with Zero Issues in Sewage Treatment
Having recognized the importance of truly flushable wipes in the hygiene industry and consumer households, Kelheim Fibres embarked on an in-depth new development a few years ago. This talk will briefly summarize the challenges with "flushable" wipes and the requirements for solving the consequent problems. The newly developed VILOFT fiber resolves the issues in an elegant and sustainable way. The talk will explain challenges in the development, and the progress towards meeting/exceeding the EDANA flushability GD4 Test FG507. Real-world experiments were run to verify the success of wipes made from VILOFT in comparison to conventional products in the sewage treatment process via the parameters power draw; vibration; noise level and blockage.