Virtual Conference Schedule
Tuesday, September 29

Breakfast Connections

8:00 am - 8:30 am
Student Poster Session
8:30 am - 5:00 pm
Welcome
8:30 am - 8:35 am
Moderator: Dave Rousse, President, INDA, Association of The Nonwoven Fabrics Industry
COVID-19 Responses
8:35 am - 9:05 am
Moderator: Dave Rousse, President, INDA, Association of The Nonwoven Fabrics Industry
How Innovation & Teamwork Supported a Large-scale Response to the COVID-19 Pandemic
John Roberts, Strategic Marketing Executive - Polypropylene-Vistamaxx - Adhesion (PVA), ExxonMobil Chemical Company
Learn More »
Biosourced Polymers & Fibers I
9:05 am - 10:05 am
Moderator: Dave Rousse, President, INDA, Association of The Nonwoven Fabrics Industry
Development & Use of a Biopolymer for Disposable Hygiene Products
Bryan Haynes, Ph.D., Senior Technical Director, Global Nonwovens, Kimberly-Clark Corporation
Learn More »
New Developments in PHA Fibers
Isao Noda, PhD, DSc, Chief Science Officer, Senior VP of Innovation, Danimer Scientific
Learn More »

Coffee & Networking Break

10:05 am - 10:20 am
Biosourced Polymers & Fibers II
10:20 am - 12:05 pm
Moderator: Davis Lee, Ph.D., Senior Marketing Scientist, Exponent
Sustainable Polymers and Fibers for Nonwovens: Current Status and Future Potential
Gajanan Bhat, Ph.D., Textiles, Merchandising and Interiors, The University of Georgia
Learn More »
Biobased Fibers for Nonwovens: Trends and Future Outlook
Alexander Koukoulas, Ph.D., Managing Director, A2Z Consulting, LLC
Learn More »
Sustainable Materials and Their Processing for the Future Nonwovens Industry
Orlando Rojas, Ph.D., Professor, University of British Columbia
Learn More »

Lunch
(Buffet Lunch Provided)
12:05 pm - 1:20 pm
Biosourced Polymers & Fibers III
1:20 pm - 2:50 pm
Moderator: Steve Chester, Principal, Stephen Chester Consulting
Using Biobased Superabsorbent Materials to Dramatically Increase Biobased Content of Hygiene Products
Ryan Chan, Ph.D., VP of R&D, Tethis, Inc.
Learn More »
The Future of Performance Fabrics
Seth Casden, President, Hologenix LLC
Learn More »
A New Performance Enhancing Additive for Nonwoven Applications
Christian Lenges, Business Development Manager, DuPont Industrial BioSciences
Learn More »

Coffee & Networking Break

2:50 pm - 3:05 pm
Developments for More Sustainable Nonwovens
3:05 pm - 4:35 pm
Moderator: Olaf Isele, Ph.D., Nonwovens Consultant, Metaxi SimBioSys LLC
Ultra-Pure Recycling of Polypropylene and Going Beyond
John Layman, Ph.D., Section Head - Corporate R&D and Chief Technologist/Founding Inventor, PureCycle, The Procter & Gamble Co.
Learn More »
Calcium Carbonate for Increased Sustainability in Nonwovens
Lee Clapp, Ph.D., Director of Market Development and Innovation - Technical Polymer Applications, Omya Inc.
Learn More »
New Horizons with Eco-friendly and Flat Specialty Viscose Fiber
Helmut Lauterbach, Business Manager Textile And Nonwoven, Kelheim Fibres GmbH
Learn More »

Coffee & Networking Break

4:35 pm - 4:50 pm
---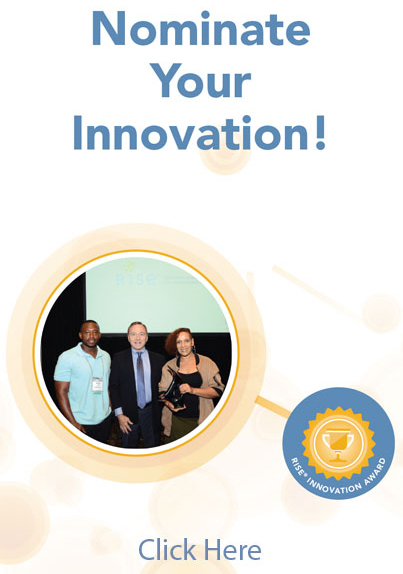 RISE 2020 Innovation Award Presentations
4:50 pm - 5:20 pm
The RISE® Innovation Award will recognize innovation in areas within and on the periphery of the nonwovens industry which utilizes advanced science and engineering principles to develop unique or intricate solutions to problems. Join the finalists as they present their innovations to RISE attendees. The winner will be announced Wednesday afternoon.
Nominations being accepted through July 31, 2020 >>
---
Wednesday, September 30

Breakfast Connections

7:30 am - 8:00 am
Sustainability: Plastics in the Environment
8:00 am - 9:30 am
Moderator: Dave Nelson, Director, Industry Engagement , The Nonwovens Institute
Nonwoven Materials Update
Behnam Pourdeyhimi, Ph.D., William A. Klopman Distinguished Professor, And Executive Director, North Carolina State University, The Nonwovens Institute
Learn More »
Moving from "Cradle to Grave" to a Closed Biobased Economy
Steve Sikra, Vice-President and Chief of Staff, The Alliance To End Plastic Waste
Learn More »
Plastics and a Socially Responsible Future
Paul Harmon, VP of Product Development & Product Marketing - HHS, Berry Global
Learn More »

Coffee & Networking Break

9:30 am - 10:00 am
Sustainability: Material Science Developments
10:00 am - 12:00 pm
Moderator: Lee Clapp, Ph.D., Director of Market Development and Innovation - Technical Polymer Applications, Omya Inc.
Sustainability: Narrowing a Wide Scope
Jessica Dahle, Product Development Scientist, Fitesa
Learn More »
Driving Production Efficiency and Performance in N95 Face Masks
Robert Green, Director of Fibers & Nonwovens, NatureWorks LLC
Learn More »
Sustainability from the Perspective of a Nonwoven Supplier to Disposable Personal Care Products
Thomas Broch-Nielsen, Senior Scientist, Fibertex Nonwovens A/S
Learn More »
Mette Due, R&D Manager, Fibertex Nonwovens A/S
Learn More »
Khrum Hussain, Supply Chain Director, Unifi, Inc.
Learn More »

Lunch
(Provided on site)
12:00 pm - 1:15 pm
Future Smart Machines & Dynamic Markets
1:15 pm - 3:00 pm
Moderator: Eva Welsh, Evolon Market Manager - North America, Freudenberg Performance Materials
Simplifying Nonwoven Manufacturing Using the Reicofil Data Reporting System
Tristian Kretschmann, Manager for R&D Projects, Reifenhauser REICOFIL GmbH & Co. KG
Learn More »
Picking Up the Pieces: The World After COVID
Jon Devine, Senior Economist, Cotton Incorporated
Learn More »
The State of the North American Nonwoven's Market and Its Response to COVID-19
Brad Kalil, Director of Market Intelligence and Economic Insights, INDA
Learn More »
RISE 2020 Innovation Award Announcement
3:00 pm - 3:15 pm
Moderator: Dave Rousse, President, INDA, Association of The Nonwoven Fabrics Industry