RISE® 2022 Conference Schedule
Tuesday, September 27
Breakfast Connections

8:00 am - 8:30 am
RISE® 2022 - Student Posters
8:30 am - 5:00 pm
RISE® 2022 - Welcome
8:30 am - 8:35 am
Moderator: Dave Rousse, President Emeritus, INDA
Towards a More Circular Industry
8:35 am - 10:05 am
Moderator: Robert Green, Vice President of Performance Polymers , NatureWorks
Achieving Supply Chain Circularity
Kat Knauer, Ph.D., Program Manager - V Research, National Renewable Energy Laboratory (NREL)
Learn More »
Sustainable Fibers – Developments and the Future
Jason Locklin, Ph.D., Director, University of Georgia - New Materials Institute
Learn More »
Coffee & Networking Break

10:05 am - 10:30 am
Advancements in Sustainable Inputs: PLA
10:30 am - 12:00 pm
Moderator: Ralph Moody, Sr. Director R&D, Berry Global
PLA & PLA Blends: Practical Aspects of Extrusion
Behnam Pourdeyhimi, Ph.D., William A. Klopman Distinguished Professor, and Executive Director, The Nonwovens Institute, North Carolina State University
Learn More »
Biobased Multicomponent Structures Providing Unique Characteristics and Sustainable Properties to Nonwovens
Kristel Beckers, Sr. Application Technician, Total Corbion PLA
Learn More »
Thinking Differently: In a Changing World What's Next for NatureWorks and Polylactic Acid Polymers (PLA)
Liz Johnson, Ph.D., VP Technology, NatureWorks LLC
Learn More »
Buffet Lunch

12:00 pm - 1:30 pm
Coffee & Networking Break

1:30 pm - 2:00 pm
Developments in Natural Fibers I
2:00 pm - 3:00 pm
Moderator: Nick Carter, Vice-President of Marketing, Avgol Nonwovens
Exploring Natural Fibers in Nonwovens
Paul Latten, Director of Research & Development & New Business, Southeast Nonwovens, Inc.
Learn More »
Hemp is Strong – Are You?
Olaf Isele, Strategic Product Development Director, Trace Femcare, Inc.
Learn More »
Coffee & Networking Break

3:00 pm - 3:30 pm
Developments in Natural Fibers II
3:30 pm - 4:30 pm
Moderator: Olaf Isele, Strategic Product Development Director, Trace Femcare, Inc.
Mitigation of Quat Incompatibility with Cotton and other Cellulosic-based Substrates
Doug Hinchliffe, Ph.D., Research Molecular Biologist, USDA-ARS
Learn More »
Fiber and Web Finishes…. What Are They and What Can They Do for Your Products?
Kay McCoy, Technical Sales Representative, Pulcra Chemicals LLC
Learn More »
---
2022 RISE® Innovation Award Presentations
4:30 pm - 5:15 pm
The RISE® Innovation Award will recognize innovation in areas within and on the periphery of the nonwovens industry which utilizes advanced science and engineering principles to develop unique or intricate solutions to problems and advance the usage of nonwovens.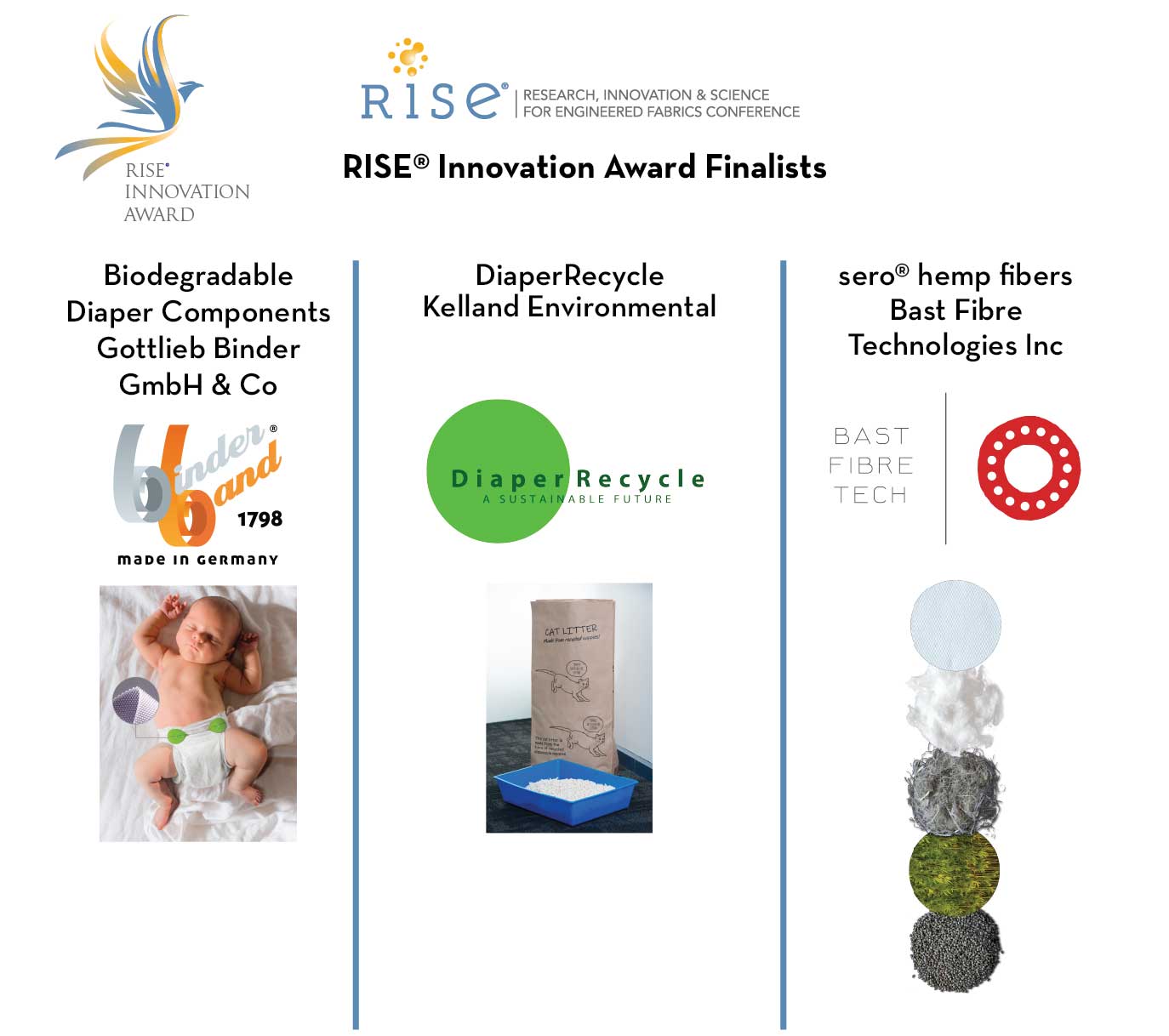 SERO® Hemp Fibre
Jason Finnis, Executive Vice President & Chief Innovation Officer, Bast Fibre Technologies, Inc.
Learn More »
Biodegradable Diaper Components
Lars Heepe, Ph.D., Head of Research & Development, Gottlieb Binder GmbH & Co. KG
Learn More »
Cat Litter Made from Recycled Nappies
Cynthia Barnicoat, CEO, DiaperRecycle
Learn More »
Reception & NWI Facility Tour
5:30 pm - 7:30 pm
RSVP Required - Limited to 50 attendees
Wednesday, September 28
Breakfast Connections

8:00 am - 8:30 am
Sustainable Inputs: Fibers & Biofibers
8:30 am - 10:30 am
Moderator: Jeffrey Bassett, Managing Director, Fi-Tech Inc.
Redesigning Plastics to be Recyclable-by-Design
Kat Knauer, Ph.D., Program Manager - V Research, National Renewable Energy Laboratory (NREL)
Learn More »
Stereochemistry Strategies to Toughen Sugar Based Polymers and Degradable Elastomers
Matthew Becker, Ph.D., Hugo L. Blomquist Distinguished Professor, Duke University
Learn More »
The Global Plastic Crisis: Who Will Be the Winners/Losers in The Marketplace?
Bryan Haynes, Ph.D., Senior Technical Director, Global Nonwovens, Kimberly-Clark Corporation
Learn More »
Novel Biobased Resins Outperforming Plastics and Other Biodegradable Biopolymers
Steven Sherman, CEO, BioLogiQ, Inc.
Learn More »
Coffee & Networking Break

10:30 am - 11:00 am
Waste Not, Want Not - Sustainable Inputs from Waste Products
11:00 am - 12:00 pm
Moderator: Matt O'Sickey, Ph.D., Director of Education & Technical Affairs, INDA
Potential Nonwoven Applications of Tree-Free Fibres Made from Microbial Cellulose
Heidi Beatty, Chief Executive Officer, Crown Abbey, LLC
Learn More »
Ultra Fine Polyester Fibers for Nonwovens
Akari Yamamoto, Business Development & Sales, Teijin Frontier Co., Ltd.
Learn More »
Yusuke Suzuki, Global Market Analysis & Sales, Teijin Frontier Co., Ltd.
Learn More »
Buffet Lunch

12:00 pm - 1:30 pm
Coffee & Networking Break

1:30 pm - 2:00 pm
Economic Insights & Market Intelligence
2:00 pm - 3:15 pm
Moderator: Meghan Holliday, Associate Director, Nonwovens Marketing, Cotton Incorporated
North American Economic Outlook
Robert Fry, Ph.D., Principal, Robert Fry Economics LLC
Learn More »
North American Nonwoven Material Outlook in a Post-Pandemic and Slowing Economic World
Brad Kalil, Director of Market Intelligence and Economic Insights, INDA
Learn More »
2022 RISE® Innovation Award Announcement
3:15 pm - 3:30 pm
Moderator: Matt O'Sickey, Ph.D., Director of Education & Technical Affairs, INDA