Conference Speakers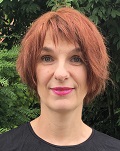 Heidi Beatty
Chief Executive Officer, Crown Abbey, LLC
BIOGRAPHY
Heidi Beatty has a successful track record as an Innovator and project manager. Over her 20+ year career, Heidi has launched products for some of the world's leading brands as well as for some of the most entrepreneurial start-ups. As CEO of Crown Abbey, Heidi and her team helps a global client base across consumer, health care and nutritional categories to identify and commercialize new technologies.
After gaining a bachelor's degree in Chemistry from the University of York, UK, Heidi worked with Johnson & Johnson for over 10 years. From there, she worked at NicePak-PDI, launching many different wet wipes, into the USA market.
Heidi has worked in the USA, Germany and currently lives in the UK. She has a deep commitment to the Environment and to supporting the voice of Women, both in the work place, as well as well the products she helps develop for them.
---
Wednesday, September 28
11:00 am - 12:00 pm
Waste Not, Want Not - Sustainable Inputs from Waste Products
Potential Nonwoven Applications of Tree-Free Fibres Made from Microbial Cellulose
Man-made cellulosic fibres are gaining popularity in both the apparel and nonwoven sectors due to their renewable and biodegradable attributes, especially given the different drives to reduce Single Use Plastics. However, the increased pressure on the supply chain for cellulose from trees gives the need for new sources.
This presentation will introduce an alternative source of cellulosic raw material, not derived from trees, but by the fermentation of agricultural by-products and wastes. It will also discuss some of the properties of this 'microbial cellulose' and the regenerated cellulosic fibres derived from it.