Conference Speakers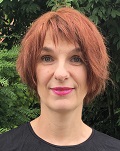 Heidi Beatty
Chief Executive Officer, Crown Abbey, LLC
BIOGRAPHY
Heidi Beatty, founder of Crown Abbey consultants, is a scientist and innovator who has over 20 years
experience developing consumer and health care products.
After gaining a bachelors degree in Chemistry from the University of York, UK, Heidi worked with
Johnson & Johnson for 10 years in Europe and the US. Starting as a Formulator developing products that
safely and effectively clean babies' skin for Johnson's Baby®, she went on to apply her knowledge of skin
to develop pantyliners and then wet wipes – with a focus on developing unique and proprietary claims
through linking a deeper understanding of women's health and wellbeing with new technologies.
In 2010, she joined PDI Healthcare, where she led teams to launch Surface Disinfectants and Skin Antisepsis products – striving to reduce and prevent infections in hospitals. She not only led the R&D team, but also brought strategic direction both in terms of process improvement for product innovation and also to improve team effectiveness.
Heidi founded Crown Abbey in 2015. Crown Abbey is a consultancy company that supports clients in their project launches – combining Project Management and Product Development across Consumer and Healthcare categories. Crown Abbey is now four people strong, and has completed projects in many different areas, including supplements, diagnostics, nonwovens and medical devices.
Heidi combines a unique skillset of innovation and project management, enabling her to conceptualize new ideas and bring them to reality. Her passion for the Environment is evident in the technical solutions she brings as well as her prior involvement in Corporate Sustainability programs. In addition to setting up her own company and numerous product launches, Heidi holds a Project Management Professional (PMP) certification, has been the Chair of EDANA's Wet Wipe Committee for 3 years, holds a Black Belt in Six Sigma and has filed multiple patents.
She currently sits on the following industry committees:
INDA: Technical Advisory Board (TAB), World of Wipes (WOW), Hygienix
BAHP: Chair of the Communications Committee
---
Wednesday, September 28
11:00 am - 12:00 pm
Waste Not, Want Not - Sustainable Inputs from Waste Products
Potential Nonwoven Applications of Tree-Free Fibres Made from Microbial Cellulose
Man-made cellulosic fibres are gaining popularity in both the apparel and nonwoven sectors due to their renewable and biodegradable attributes, especially given the different drives to reduce Single Use Plastics. However, the increased pressure on the supply chain for cellulose from trees gives the need for new sources.
This presentation will introduce an alternative source of cellulosic raw material, not derived from trees, but by the fermentation of agricultural by-products and wastes. It will also discuss some of the properties of this 'microbial cellulose' and the regenerated cellulosic fibres derived from it.