Conference Speakers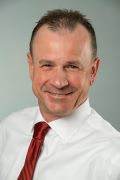 Lothar Kaierle
VP Sales Nonwovens, American Truetzschler, Inc.
BIOGRAPHY
Lothar Kaierle currently serves as the Vice-President of Sales/Nonwoven at American Truetzschler in Charlotte, NC. Mr. Kaierle began his career in the nonwoven industry in 2005 as the After Sales Manager for the Neumag Carding Division of Oerlikon, Inc. Mr. Kaierle has a Master Technician Degree in Mechanical Engineering from the Technical College in Aichach.
---
Tuesday, September 26
10:30 am - 12:00 pm
Rise of the Machines: The Future of Nonwoven Manufacturing II
When Needlepunching Meets Recycling
We often heard before that resources will come to an end. On the other hand, more than 8 billion people on earth need clothing, bedding and textiles that make life safer, healthier, and easier. Textiles play a major role in fulfilling this purpose. So, why not re-use the many textiles thrown away by the textile industry and the consumer each year? Needlepunching is an essential technology to make this happen.
With T-SUPREMA Trützschler Nonwovens and partner company Texnology developed a joint concept to facilitate needlepunched nonwoven production. It comprises excellent machinery for forming and bonding a perfect nonwoven from every fiber type. But the holistic T-SUPREMA approach also features T-ONE, a digital working environment to boost production performance and the unique Trützschler service offer.
This talk gives an overview on latest developments for improving machine and overall production line efficiency and availability. We discuss opportunities, challenges, and solutions regarding reclaimed fibers, and we give examples why needle-punching will be as easy as never before.