Conference Speakers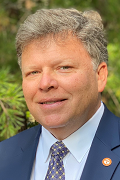 Bryan Haynes, Ph.D.
Senior Technical Director, Global Nonwovens, Kimberly-Clark Corporation
BIOGRAPHY
Dr. Haynes received his B.S. and M.S. in Aerospace Engineering and Ph.D.in Mechanical Engineering from the University of Tennessee at Knoxville. During his graduate studies Dr. Haynes specialized in the aerodynamics and polymer processing of the meltblowing process which was funded by Exxon Chemical Company. He taught full time in the Department of Mechanical and Aerospace Engineering prior to joining Kimberly-Clark Corporation as a Research Scientist in 1992. While working at Kimberly-Clark Corporation, Dr. Haynes has held various positions in research and engineering including an assignment at the Lexington Mill in North Carolina serving as the Technical Team Manager. Dr. Haynes has published several papers and has obtained 44 U.S. Patents and 16 Trade Secrets during his Kimberly-Clark career. He currently holds the position of Senior Technical Director for Global Nonwovens. Prior to his current role he served as the Director of Research and Engineering in Global Nonwovens where his team was responsible for the front-end innovation portfolio and prototyping capabilities including the pilot facilities supporting Kimberly-Clark's various businesses. Dr. Haynes has received several awards including the Kimberly-Clark Technical Excellence Award, the 2012 Rodney D. Chipp Memorial Award from the Society of Women Engineers, and most recently he received the 2017 INDA Lifetime Technical Achievement Award. He is also an Adjunct Professor at The University of Tennessee in the Department of Mechanical, Aerospace and Biomedical Engineering. He serves on several Industrial Advisory Boards including Materials Science and Engineering at the Georgia Institute of Technology; Chemical, Materials and Biomedical Engineering at the University of Georgia; and the Nonwovens Institute at N.C. State University. He also serves on the Board of Directors as Secretary for Georgia FIRST which is a non-profit organization that supports STEM programs in Georgia. He is also on the Board of Directors for INDA. Dr. Haynes is married with two daughters.
---
Wednesday, September 28
8:30 am - 10:30 am
Sustainable Inputs: Fibers & Biofibers
The Global Plastic Crisis: Who Will Be the Winners/Losers in The Marketplace?
The Single Use Plastics Directive was a wake-up call to the nonwovens industry in several aspects. First, the industry was not sufficiently prepared to prove the benefits of bioplastics relative to biodegradability and microplastics. Secondly, many of the potential solutions, including circularity, are longer term in nature, but we need solutions now! This paper will provide an update on Kimberly-Clark's sustainability journey and break down the problems we should all be concerned with that need immediate solutions. This is a call to action for the industry – Coopetition, or cooperative competition, will be key for the nonwovens industry to bring these solutions to market.