Conference Speakers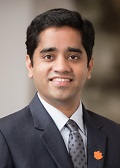 Srikanth Pilla, PhD
Associate Professor, Clemson University
BIOGRAPHY
Srikanth Pilla joined CU-ICAR in August 2013 as an Assistant Professor of Automotive Engineering. Prior to coming to CU-ICAR, Dr. Pilla was Assistant Scientist at the Wisconsin Institute for Discovery, University of Wisconsin-Madison. Dr. Pilla also has industrial experiences at SC Johnson and Son Inc. and SuGanit Biorenewables Inc.
Dr. Pilla received his B.S. degree from JNT University India, MS from University of Toledo and PhD from University of Wisconsin-Milwaukee, all in Mechanical Engineering. He then obtained a postdoctoral training from the department of Civil and Envirnomental Engineering at Stanford University.
Dr. Pilla's research focuses on the mechanics, processing and characterization of polymers, multifunctional composites, nanocomposites, sustainable materials and microcellular foams. His research thrust includes the development of structural foams, biobased and biorenewable materials, gas-assisted foam processing, composites for extreme environments including high-temperature, thermoset composites processing using OOA (UV based) methods, multi-functional materials including self-repairing structural composites, and the evaluation of these materials using experimental mechanics, rheology, thermal, spectroscopic and microscopic analysis. In addition, his work focuses on the chemistry and physics based understanding of joining methods for dissimilar and hybrid materials and structures while investigating the environmental impact through stochastic life-cycle assessment.
Dr. Pilla is the Associate Editor of SAE International Journal of Materials and Manufacturing, Series Editor of Polymer Science and Plastics Engineering at Wiley-Scrivener and also serves on the editorial board of Journal of Renewable Materials. In addition, Dr. Pilla serves on the board of Injection Molding Division of the Society of Plastics Engineers.
---
Tuesday, September 24
4:00 pm - 5:00 pm
Innovation I
Thermoplastic Based Nonwoven Composites – The New Promising Lightweight Materials for Automotive Structures
The increasing use of carbon fiber composites in the civil aviation sectors is fueled by the perpetual need for stiffer and lightweight materials. This is supported by the fact that the two flagship commercial jetliners are manufactured using these composites. Nevertheless, a significant amount of scrap is generated during the manufacturing process that has been historically discarded thereby posing a major environmental concern. Retrieving and recycling of carbon fiber via the pyrolysis of the matrix has proven to be scalable and energy efficient. Since the retrieved fibers are discontinuous and non-homogenous in length, they cannot be reused for their original application. However, creating a non-woven mat from these recycled fibers is shown as an interesting proposition vis-a-vis their retention in stiffness. This leads to the creation of a relatively low cost raw material that is extremely attractive for automotive lightweight applications since most components designed are stiffness critical. However, major issues with adoption of these materials are supply chain, historical knowledge for design & processing and the lack of accurate material models. This talk presents ongoing efforts at the Clemson Composites Center at overcoming these challenges by gaining insight into the effect of mechanical properties by varying the length of carbon fiber reinforcements in the same thermoplastic matrix and identifying ideal components for automotive applications.