Conference Speakers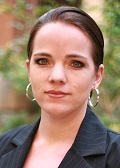 Teresa Clark
Vice President - Product Development And Sustainability, ENSO Plastics, LLC
BIOGRAPHY
Teresa Clark is the VP of Product Development and Sustainability with ENSO Plastics, LLC, where she develops sustainable solutions for the materials industry. One key focus is the development of technologies that accelerate the natural bio-remediation of materials in the waste environment. It is on this subject that Teresa created and instructed a continuing education course for the PR College of Engineers. Teresa also developed an educational program for middle school children to educate them on plastics, biodegradation and the environment which has been used in several private schools.
Teresa is a member of ASTM where she serves as the chair of several technical committees and Sub-committees including; Bio-technology, Waste Management, Plastics and Sustainability. She also is the Prev. Chairman of the Board for Arizona Businesses Advancing Sustainability (AZBAS) where she oversees the development and implementation of sustainable strategies, cooperation between industries and educational outreach.
Teresa is an avid environmentalist with experience in microbiology, chemistry, biodegradation and related environmental fields and holds a passion for sharing her knowledge with the industry. Teresa has several published technical papers and books on the subjects of biodegradability, plastics, rubber and sustainability. She regularly provides consultation services and educational seminars on these subjects. She has been a featured educational speaker at multiple conferences in the plastics, waste management and rubber industries
---
Tuesday, September 24
8:35 am - 10:20 am
Sustainable Additives I
Demystifying Biodegradation and the Circular Economy of Nonwoven Synthetic Materials
Is it possible to have biodegradable non-woven materials that support a circular economy? How should a company evaluate and validate biodegradability? What technologies are available to accelerate the biodegradation of nonwovens? Why is biodegradability an important focus for short-life materials?
These are just a few of the questions that will be answered during the presentation.
In developing sustainable solutions for non-woven materials, end-of-life is a critical factor and there is a strong movement toward biodegradability to address hard to recycle synthetic materials. Having a strong foundation of the fundamental mechanisms of biodegradation; understanding why, when and where biodegradation will occur; how to validate biodegradation; and the available options for creating biodegradable fibers; is critical to avoid common pitfalls.
The key topics covered will be:
• Sustainability and non-woven fabrics
• Understanding biodegradability
• Where and when is key
• Validating performance
• Mechanisms to biodegrade polymers
• Available materials and technologies
• Joining the circular economy
Attendees will leave this presentation ready to evaluate and implement sustainable biodegradable solutions that build on circular economy precepts.