Conference Speakers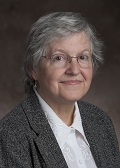 Susan Selke, Ph.D.
Director & Professor, Michigan State University - School of Packaging
BIOGRAPHY
Susan E. Selke is a Professor at Michigan State University and Director of the School of Packaging, where she has been a faculty member for 35 years. She received a Distinguished Faculty Award from MSU in 2012. In 2018 she was inducted into the PMMI Packaging and Processing Hall of Fame. She holds M.S. and Ph.D. degrees in chemical engineering from Michigan State. Her research interests include environmental impacts of packaging; sustainability; plastics recycling; biodegradable and biobased plastics; composites of plastics with natural fibers; life cycle assessment; nanotechnology and packaging, and other areas. She has authored or coauthored several books on packaging materials and on packaging and environmental issues, as well as over 150 articles and book chapters. Courses she teaches include plastics packaging, packaging materials, stability and recycling of packaging materials, and analytical solutions to packaging design.
---
Tuesday, September 24
11:00 am - 12:00 pm
Sustainable Additives II
Biodegradation-Promoting Additives for Plastics – Questions You Should Ask
There is great interest in mitigating the plastic waste problem by using biodegradable plastics, and particularly in making standard commodity plastics biodegrade, often through incorporation of additives. In light of significant concerns about misrepresentation of performance and of environmental benefits, potential users should examine such alternatives carefully. Some important questions to ask include: Do the materials perform as claimed? What are the (real) environmental benefits of using these materials? Are there likely to be unanticipated consequences of their use? How can this be accurately (and legally) communicated to consumers? The decision to use – or not to use – additive systems for commonly used plastics should be based on sound science-based understanding.