Conference Speakers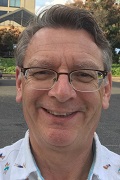 Richard Reid
Regional Business Manager, Kelheim Fibres GmbH
BIOGRAPHY
Richard Reid is Kelheim Fibres' North American Regional Business manager since 2004.
Richard has been in the specialty cellulose fiber industry for over 30 years with responsibilities in industrial engineering, quality management, technical services, business development, supply chain management and commercial relationships.
In the fibers world, Richard has worked with DuPont, Courtaulds, Tencel, Acordis and Kelheim Fibres.
Richard was a key member of the launch teams for Galaxy Fiber, the world's leading specialty fiber for tampons, as well as Tencel's entrance into the high fashion world of Japan.
Richard enjoys travelling and meeting people face to face. Taking the time to experience differences and understanding customers has always been a passion of Richard.
Richard got his start in fibers, textiles and nonwovens industries as a graduate of Textile Engineering Technology form Mohawk College, Hamilton Ontario, Canada.
Richard served in the Air Force reserve for 18 years, held the rank of Lieutenant, mostly for his efforts in the marching band, but did manage to earn his pilot's wings before he knew how to drive a car.
---
Wednesday, September 25
8:00 am - 10:30 am
Innovation II
A Fully Flushable Wipe with Zero Issues in Sewage Treatment
Having recognized the importance of truly flushable wipes in the hygiene industry and consumer households, Kelheim Fibres embarked on an in-depth new development a few years ago. This talk will briefly summarize the challenges with "flushable" wipes and the requirements for solving the consequent problems. The newly developed VILOFT fiber resolves the issues in an elegant and sustainable way. The talk will explain challenges in the development, and the progress towards meeting/exceeding the EDANA flushability GD4 Test FG507. Real-world experiments were run to verify the success of wipes made from VILOFT in comparison to conventional products in the sewage treatment process via the parameters power draw; vibration; noise level and blockage.