Conference Speakers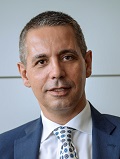 Fabio Zampollo
CEO, Teknoweb Materials S.r.l.
BIOGRAPHY
Fabio Zampollo is the CEO and Founder of Teknoweb Materials. Mr. Zampollo started Teknoweb Materials in 2014 after holding the position of CEO and Head of R&D at Teknoweb Srl. He brought his technical expertise with innovating wipes converting lines to his new venture. At Teknoweb Materials, Mr. Zampollo implemented exceptional innovation in the production of polyolefin-cellulose coformed substrates for the hygienic, wipes, and diaper core sectors. One of his notable achievements is the collaboration with Procter & Gamble for the development of a polyolefin-cellulose coformed substrates production line, the Phantom, currently one of the best polyolefin-cellulose coformed substrates.
Mr. Zampollo began his illustrious career in sales and R&D with companies such as Nuova Red Italiana, GDM, and SSP Technology. He honed his technical expertise with innovative technological machinery used in various processes for diapers disposable products.
---
Wednesday, September 29
8:30 am - 10:15 am
Promising Innovations in Nonwovens I
Phantom Platform: The Polyolefin-cellulose Coformed Substrates Technology at Its Best
The innovative Phantom technology, patented by Procter & Gamble and developed and distributed by Teknoweb Materials, allows the creation of sustainable plants for the production of sustainable polyolefin-cellulose coformed substrates suitable to be applied on wiping, diapers as well as medical applications market, manufactured without hydroentanglement being a drylaid product, obtaining a saving in raw materials, energy and workforce up to 30% versus than the best of spunlace competitors.
A solution that looks to the future, developed with concepts that make less attractive what is currently on the market. In addition, a solution that in 2025, thanks to the research and development on polymers that the team is carrying out, will be ready to create 100% from recyclable polymers or biodegradable polymers.