Conference Speakers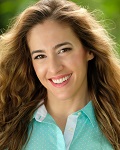 Natasha Di Fiore
Researcher, Metaxi SimBioSys LLC
BIOGRAPHY
Natasha is a researcher and consultant with Metàxi Simbiosys LLC and has sought throughout her career to combine fitness, fashion, innovation and social responsibility. Those who know her would describe her as determined, ambitious, friendly and compassionate. Born in Massachusetts and raised by Italian parents, Natasha grew up speaking Italian and English while having an expanded understanding of culture beyond that which was inherent in her immediate surroundings. Her European heritage fueled her passion to better understand our world, including what makes it thrive but also what makes it crumble. She spent much of her education and now career with this goal in mind. She received a BA in Marketing, PR and Communications, and an MBA in Business Administration from Simmons College. Nowadays, Natasha occupies her time in the skies, as one of Delta Air Line's flight attendants, satisfying her adventurous spirit exploring different cultures and habits. Prior to the COVID pandemic, Natasha was employed as a model and actress and hopes to reassume these roles again later this year. Natasha likes to spend her time staying fit, running or hiking, or with a little help from YouTuber instructors, writing music lyrics and immersing herself in the "day-to-day" activities with locals when she travels. She lives by the Golden Rule (and wishes more people did too!), believes in taking care of our world and loves fashion, film, traveling, the ocean and her family. In her talk she will share what makes a face mask "just right," … worthy of Goldilocks praise, by looking at functionality, design and sustainability.
---
Wednesday, September 29
3:10 pm - 4:20 pm
Material Innovations in Nonwovens
Which to Filter Out? A Comparative Assessment of Various Face Masks with a Focus on Sustainability
It hasn't been easy for everyone to adapt to wearing face masks. Especially since for many, daily use has affected their quality of lives and even led to health issues such as acne, irritation, allergic reactions, headaches or even anxiety. Most would agree, however, that the main defense we can use at this time to fight COVID-19 on top of social distancing is to wear a mask. So how does one decide which mask is right for them while not sacrificing effectiveness? And which mask will leave the least amount of footprint on our already overly polluted world? There is still so much we don't know about this disease and, furthermore, recommendations are frequently changing as evidence becomes available but that doesn't mean we can't make informed purchasing decisions. With a focus on sustainability (reusability, recyclability, using bio-based materials etc.), this will be a review of different mask designs and types, while also comparing performance data for filtration efficiency of fine particles and aerosols as well as breathability.