Conference Speakers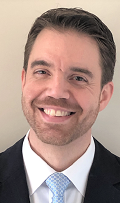 Michael Aguilar, Ph.D.
Financial Economist/Teaching Professor, University of North Carolina - Chapel Hill
BIOGRAPHY
Mike Aguilar is a financial economist, specializing in financial econometrics and applied macroeconomics. He currently holds academic appointments at UNC Chapel Hill Economics Department, Kenan Flagler Business School, and Fuqua Business School at Duke University. He is also the Chief Investment Officer at Cardinal Retirement Planning.
---
Thursday, September 30
2:00 pm - 3:05 pm
Market Intelligence & Economic Insights
US Economic Outlook: Reopening and Recovery
The speed and variability of the U.S. economic recovery from COVID is without modern precedent. In this talk we'll start with a status update: What is the current pulse of the US consumer? Are businesses investing in cap-ex again? How close is the labor market to healing? We will then transition to the outlook. How long can the expansion last? Will inflation become too hot to handle? Will Fiscal and Monetary policies keep the party going, or have unintended consequences?