Conference Speakers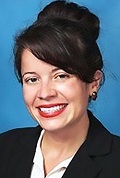 Kat Knauer, Ph.D.
Senior Researcher, National Renewable Energy Laboratory (NREL)
BIOGRAPHY
Dr. Kat Knauer is a polymer scientist who has dedicated her scientific career to solving the plastic waste problem. She has a PhD in Polymer Science and Engineering from the University of Southern Mississippi and completed the BASF PhD Leadership Development Program (LDP) in 2018 before taking a Senior Scientist role in BASF's Plastics Division. Her research efforts focused on advanced recycling technologies which ultimately led her to leading Materials Innovation R&D at Novoloop (formerly BioCellection), a San Francisco Bay Area chemical recycling startup. Recently, Dr. Knauer joined the National Renewable Energy Laboratory (NREL) as the Chief Technology Officer (CTO) of the Bio-Optimized Technologies to keep Thermoplastics our of Landfills and the Environment (BOTTLE) Consortium where she is developing sustainable technologies to chemically upcycle today's existing plastic waste streams and develop new plastics for the future that are recyclable by design.
---
Wednesday, September 27
8:30 am - 10:00 am
Rethinking rPolymers
Advancing the Circular Economy: Technoeconomic Analysis and Life Cycle Assessment of Chemical Recycling Methods for Mixed Polyesters
Nonwovens are a key opportunity space for redesign based on recyclable-by-design principles. Biodegradable polyesters offer an attractive solution to nonwoven waste management, as they can biodegrade in composting facilities and specific natural environments. However, these valuable materials should ideally be kept in circulation rather than permitted to degrade. While biodegradable plastics subjected to mechanical recycling often exhibit sub-optimal properties, chemical recycling techniques could potentially retain quality while keeping these materials in a circular economy. Here, we conduct a comprehensive technoeconomic analysis and life cycle assessment of three chemical recycling methods: methanolysis, glycolysis, and acid hydrolysis. Our analysis focuses on mixed polyester feedstocks containing polylactic acid (PLA), polybutylene adipate terephthalate (PBAT), and polyethylene terephthalate (PET). We demonstrate that methanolysis economically and environmentally outperforms the other chemical recycling strategies as well as virgin manufacturing of the assessed polymers. The costs and life cycle impacts of methanolysis also tend to decrease with increasing biodegradable polyester content, indicating the suitability of this technology for emerging plastic materials. We conclude by highlighting the challenges and opportunities facing chemical recycling of mixed polyesters and its role in a more sustainable, circular, and pollution-free plastics system.