Conference Speakers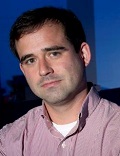 Jason Locklin, Ph.D.
Director, University of Georgia - New Materials Institute
BIOGRAPHY
Dr. Jason Locklin obtained his BS from Millsaps College in 1999. He graduated with his MS from UAB in Chemistry in 2002 and PhD from the University of Houston in 2004. Jason then went on as a Director of Central Intelligence Postdoctoral Scholar at Stanford University in 2005 in the Department of Chemical Engineering where he worked with Dr. Zhenan Bao in the area of flexible electronics. In 2007, Locklin joined the University of Georgia in the Department of Chemistry and the College of Engineering and was promoted to Professor in 2018. He founded the New Materials Institute in 2017 that focuses on green engineering principles and circular materials management.
Locklin has been awarded the Central Intelligence Agency Young Investigator Award (2007), NSF CAREER Award (2010), the Northeast Georgia ACS Chemist of the Year for Research (2009-2010), the Atlanta Magazine Groundbreaker Award (2011), and the College of Engineering Researcher of the Year (2019). He is a Distinguished Faculty Scholar in the College of Engineering and the Site Director for the National Science Foundation Industry University Collaborative Research Center – The Center for Bioplastics and Biocomposites at UGA, which has over 40 industry partners.
Locklin has published more than 100 papers in polymer science and has over 50 global patents and applications. His group is focused on biopolymer production and applications.
---
Tuesday, September 27
8:35 am - 10:05 am
Towards a More Circular Industry
Sustainable Fibers – Developments and the Future
The National Science Foundation (NSF) recently funded the Center for Bioplastics and Biocomposites (CB2) for a Phase II Industry University Cooperative Research Center. The center has four sites, North Dakota State University, University of Georgia, Iowa State University and Washington State University.
Research in CB2 is directed by more than 30 member companies, including but not limited to, Sherwin-Williams, BASF, 3M, NatureWorks, AkzoNobel, Amazon, Ford Motor Company, Evonik, Hyundai, Kimberly-Clark and John Deere. These companies develop and select project concepts as well as oversee the research at the four university sites. In this talk, an introduction to the center and select projects will be described, along with how to get involved.