Conference Speakers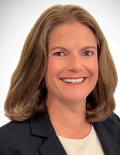 Liz Johnson, Ph.D.
VP Technology, NatureWorks LLC
BIOGRAPHY
Liz Johnson is the VP of Technology at NatureWorks where she leads the R&D Organization. She holds a BA in Chemistry and a PhD in Materials Science and Engineering specializing in implantable polymeric biomaterials. She grew up on the East Coast, studied in the Mid-West and West Coast and is now back in the Mid-West. She lives in Minnesota with her husband, 3 kids and 2 dogs. Her passion is bringing people, process, and technology together to launch great products.
---
Tuesday, September 27
10:30 am - 12:00 pm
Advancements in Sustainable Inputs: PLA
Thinking Differently: In a Changing World What's Next for NatureWorks and Polylactic Acid Polymers (PLA)
The world is changing and along with it the bioplastics landscape. The bioplastics market is expanding with new players entering and new products being launched. At the same time, new regulations are changing the field in which we compete. At NatureWorks we seek to develop, manufacture, and commercially launch differentiated PLA products with unique performance in strategic applications. This talk will delve into what's next for NatureWorks and polylactide polymers (PLA). As scientists and entrepreneurs, we seek to make the impossible possible. A key to our success will be increased commercialization efficiency and effectiveness. We will utilize expanded internal capabilities and leverage external partnerships to enable accelerated new product introductions. From our enhanced ability to tune PLA degradation, new innovations will create high impact PLA based solutions to meet the needs of an ever-changing world.