Conference Speakers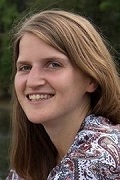 Kristel Beckers
Sr. Application Technician, Total Corbion PLA
BIOGRAPHY
Kristel Beckers obtained a Materials Engineering Degree at the KULeuven in Belgium, with a specialization in polymers and composites. At the start of her career, she worked for a Belgian research institute on various national and european projects, with a main focus on filament extrusion of biobased polymers and its conversion into composites. In 2016, Kristel joined Corbion as a PLA application engineer, targeting fiber, filament and nonwoven applications. Since the start of the joint venture between TotalEnergies and Corbion in March 2017, she is the company's technical advisor for PLA in fiber, filament and nonwoven applications.
---
Tuesday, September 27
10:30 am - 12:00 pm
Advancements in Sustainable Inputs: PLA
Biobased Multicomponent Structures Providing Unique Characteristics and Sustainable Properties to Nonwovens
TotalEnergies Corbion' core belief is that Luminy® PLA can have a meaningful impact towards creating a better planet for current and future generations. PLA bioplastic enables products with a high biobased content and a reduced carbon footprint. In the case of our Luminy® PLA, a 75% reduction in carbon footprint is offered compared to most traditional fossil-based plastics.
The TotalEnergies Corbion portfolio delivers a range of PLA polymer resins, which can be converted in many products, including nonwovens. The advantage of this diverse portfolio is that not solely monocomponent PLA nonwovens can be achieved, but also various multicomponent structures are attainable, delivering different assets and new structures, yet still produced from 100% PLA or still 100% biobased. With this concept, it is possible to create heat sealable or self-crimping structures for either flat or lofty structures. Furthermore, as the product portfolio also enables the production of microfiber structures, these can all then be combined into complex biobased nonwoven products.