Conference Speakers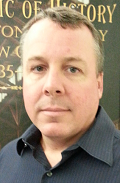 Doug Hinchliffe, Ph.D.
Research Molecular Biologist, USDA-ARS
BIOGRAPHY
Dr. Doug Hinchliffe obtained his Ph.D. degree in Molecular Biology from New Mexico State University in 2003 followed by a Cotton Incorporated Postdoctoral Fellowship working on cotton genomics and disease resistance. He then joined the USDA Agricultural Research Service in New Orleans in 2005 and continued to work on cotton genomics and fiber improvement. Dr. Hinchliffe joined the Cotton Chemistry and Utilization Research Unit in 2010 and currently serves as Lead Scientist on one of two projects that seek to expand the use of cotton and especially cotton's share of the textile and nonwovens fiber market through the development of new and improved products, processes and applications leading to greater utilization of cotton.
---
Tuesday, September 27
3:30 pm - 4:30 pm
Developments in Natural Fibers II
Mitigation of Quat Incompatibility with Cotton and other Cellulosic-based Substrates
Quaternary ammonium compounds, commonly referred to as quats, are cationic surfactants widely used as the active antimicrobial ingredient for disposable disinfecting wipes. The cationic nature of quats results in a strong electrostatic interaction and adsorption onto wipes materials that have an anionic surface charge, such as cotton and other cellulosic materials. This can effectively deplete quats from bulk solution and reduce their deposition onto a hard surface, thereby reducing antimicrobial efficacy. We are exploring several approaches to mitigate the depletion of quats from bulk solution onto cellulosic materials, including quat co-formulations that minimize electrostatic interactions, surface modifications that result in cationic cellulosic substrates, and substrate surface area reduction using coarse staple fibers. Current research progress and preliminary efficacy testing results required for EPA registration of disposable disinfecting wipes will be discussed.