Conference Speakers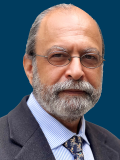 Haresh Malkani, Ph.D.
CTO, CESMII
BIOGRAPHY
Haresh Malkani was appointed Chief Technology Officer (CTO) of the Clean Energy Smart Manufacturing Innovation Institute (CESMII) in March of 2018. In his role as CTO for CESMII, Haresh oversees the technology mission, road map and objectives of CESMII. He will spearhead development of technologies spanning advanced sensors, controls, platforms, data analytics, modeling for manufacturing, and smart manufacturing standards and protocols. He will oversee the development and application of the nation's first open, collaborative Smart Manufacturing technology platform for industrial applications. In addition, he will provide guidance on the institute's technical program content for training and workforce development.
Haresh brings over 29 years of experience in an industrial RD&E environment covering development and deployment of Smart Manufacturing technologies including sensing, automation, control, modeling, simulation and analytics for applications in continuous, hybrid and discrete manufacturing operations. Haresh comes to CESMII from a successful career at Alcoa/Arconic. He most recently was Director, Digital Manufacturing & Automation Technologies. In this role Haresh was responsible for developing the strategy for Smart Manufacturing and deploying solutions that drove productivity in excess of $40M/year. His expertise in modeling, simulation, advanced sensing, automation, analytics and visualization were key to developing the technical strategy, architecture and approach. Haresh has a successful history of projects developing model-based control for several unit operations at Alcoa.
In addition, Haresh has been involved with the Smart Manufacturing Leadership Coalition (SMLC) for over 8 years. He most recently held the position of Vice Chairman of SMLC. Haresh holds a Ph.D. and M.S. degrees in mechanical engineering from Northwestern University and a B.S. degree in mechanical engineering from the Maharaja Sayajirao University (India).
---
Tuesday, September 26
9:05 am - 10:05 am
Rise of the Machines: The Future of Nonwoven Manufacturing I
Making an Impact on Manufacturing Productivity Through Smart Manufacturing
CESMII is a public-private institute focused on Smart Manufacturing. Funded by the US Department of Energy, with a home at University of California in Los Angeles, the institute focusses on the development and demonstration of Smart Manufacturing technologies and education & workforce development, to meet industry needs in energy productivity and operational excellence. We will present our perspective on the state of Smart Manufacturing and provide real-world use case examples from CESMII's diverse portfolio of projects.