Conference Speakers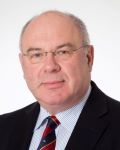 Johann-Philipp Dilo
CEO, Dilo GmbH
BIOGRAPHY
• Education: Degree in Mechanical Engineering, Diplom-Ingenieur, Technische Hochschule Darmstadt, Germany
• Function: CEO / Managing Partner DiloGroup companies
• Membership Institutions:
- Vorstandsvorsitzender VDMA-Fachverband Textilmaschinen 2005 - 2008
- Delegate to CEMATEX 2005 - 2008
- Member of Advisory Boards of Textile Research Institutes
---
Tuesday, September 26
10:30 am - 12:00 pm
Rise of the Machines: The Future of Nonwoven Manufacturing II
"MicroPunch" Needling - Green Technology for Lightweights, Breakthrough for Energy Savings
In the current and urgent search for reduced energy consumption and sustainability in the production process of lightweight nonwovens, intensive needling has become a technological alternative to produce hygiene and medical single-use products in a weight range of 40 to 100 g/m2. Besides applications in the hygiene field, also technical products are addressed in the filtration and automotive sector. First application tests have shown that "MicroPunch" is a valid and economic approach for needling disposables including those from biodegradable fibre.
In the presentation economic and physical data relating to this product range is illustrated. Energy consumption per kilo fibre mass of Micro needled product is drastically reduced compared to hydroentangled material.