Conference Speakers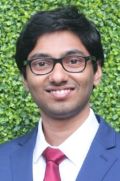 Shyam Atri
Graduate Student, NCSU - Dept of Mechanical & Aerospace Engineering
BIOGRAPHY
Shyam Atri is a doctoral student in the Department of Mechanical and Aerospace Engineering at
North Carolina State University. Shyam is working under the supervision of Dr. Hooman Tafreshi and Dr Behnam Pourdeyhimi on the topic of computational and experimental study of charged multi-layer nonwovens.
Shyam did his undergraduate degree from Vishvesaraya Technological University in Bengaluru, India and his masters at the University of Southern California Los Angeles and worked as a Continuous Improvement Engineer at Huf Automotive Manufacturing Corporation in Greeneville, TN before pursing his doctorate degree at NC State University.
---
Tuesday, September 26
12:45 pm - 2:15 pm
Filtering Innovation: Exploring Real-world Applications and Advances in Filter Media I
Macroscale Simulation of N95 Respirators
This talk presents a detailed analysis of the instantaneous collection efficiency and pressure drop of an N95 respirator under particle loading. The simulations are conducted for when the mask was tested in a setting like that proposed by NIOSH. We considered particles with the size and charge distributions similar to those of the particles used by common filter testers (e.g., TSI 8130). Our numerical predictions were compared with the experimental data reported by Balazy et al. (2006) for the initial (clean) efficiency of N95 masks, and good agreement was observed. The simulation platform developed in this study can be used in design and development of future facemasks and respirators.
Tuesday, September 26
5:00 pm - 7:00 pm
Poster Session
Computational–Experimental Study on Particle Removal via Electrically Charged Multilayer Nonwovens