Conference Speakers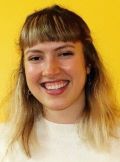 Erin Roberts, Ph.D.
Innovation Project Manager, Mann+Hummel
BIOGRAPHY
Erin Macy Roberts was raised in Asheville, North Carolina. She received her B.S. in Textile Technology: Medical Textiles with minors in Biological Sciences and Art & Design in May of 2017 from North Carolina State University. While at N.C. State, she founded the student-led group Greater Good Textiles in order to foster positive environmental and social change in the textile industry, which won the N.C. State Model the Way Award. Ms. Roberts was also a Caldwell Fellow, in which she was trained extensively in leadership and personal development. During this time, Ms. Roberts received honors such as the AATCC Foundation Pulcra Chemicals Graduate Fellowship, the AATCC Foundation Textile Scholarship, the AATCC Nonwovens Institute Undergraduate Student Scholarship, the Joseph D. Moore/Reeves Scholarship, the N.C.T.F. Board of Director's Scholarship, the Committee on International Programs Scholarship, and the Friends of the Gregg General Scholarship. To further her passion of designing nonwoven textiles for human and environmental health, she obtained her Doctor of Philosophy degree under the supervision of her advisor and mentor Dr. Behnam Pourdeyhimi in May of 2020. She worked for Mann+Hummel as an Innovation Project Manager in Ludwigsburg Germany for 2 years, and recently moved back to the U.S. to continue her work in sustainability for Mann+Hummel.
---
Tuesday, September 26
12:45 pm - 2:15 pm
Filtering Innovation: Exploring Real-world Applications and Advances in Filter Media I
Circularity in Filtration Applications
As we move towards our global goal to stay under 1.5 degrees Celsius, our industry has a responsibility to adapt to new technologies, new ways of thinking, and new results. Filtration can be used to support environmental sustainability, but it can also negatively contribute. In this work, the negatives and positives of fibrous filtration media will be discussed at length with 3 example life cycle assessments (LCAs). A LCA delineates the environmental impact from the raw materials, manufacturing, distribution, use case, and disposal/re-use. The process of redesigning a filter for lesser environmental impact will be enumerated. Specifically, the method of first completing an LCAs, second, determining hot-spots, and third, using design-thinking to reimagine the filter product will be discussed. Findings show that most fibrous filtration products, due to the intense amount of energy used to push fluid through the fibers, the use-case is often the most energy intensive portion of the life cycle. Solutions that lower the pressure drop yet keep filtration efficiency are explored. Lastly, we are encouraged not only to consider lowering our carbon footprint, but also to increase our handprint by designing products in unique sectors that positively impact this new paradigm in environmental sustainability.