Conference Speakers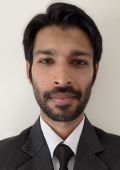 Sashank Gautam, Ph.D.
Postdoctoral Research Scholar, NCSU - Dept of Mechanical & Aerospace Engineering
BIOGRAPHY
Dr. Sashank Gautam is an accomplished individual with a strong background in Aerospace engineering and Mechanics. He obtained his PhD from the University of Alabama, Tuscaloosa in 2021. Dr. Gautam's research interests focus on flow aerodynamics, with a particular emphasis on the design and optimization of Multilayer Aerosol Filtration Media. His aim is to develop innovative solutions that enhance the efficiency and performance of these media, ultimately leading to the creation of safer and more effective air filtration systems.
Since October 2021, Dr. Gautam has been serving as a postdoctoral research scholar in the Mechanical and Aerospace Engineering Department at North Carolina State University. In this role, he actively contributes to ongoing advancements in the field and collaborates with a diverse team of researchers and engineers. Currently, he is specifically involved in deepening the understanding of the electrostatic aspect of filtration media.
---
Tuesday, September 26
2:30 pm - 3:30 pm
Filtering Innovation: Exploring Real-world Applications and Advances in Filter Media II
Macroscale Simulation of Electrostatically Charged Filters
Performance of electrostatically charged filters tends to decline during filter operation. This is because the combined effects of charge neutralization and charge aerodynamic shielding caused by particle deposition on the surface of the fibers. This talk presents a macroscale model devised to study the instantaneous pressure drop and collection efficiency of an electrostatically charged filter under particle loading. Our results are compared with experimental data obtained for a bipolarly-charged polypropylene filter under salt loading and good agreement was observed. The proposed computational model can be used to design nonwoven filters comprised fibrous layers each having a different combination of charge and microstructural properties.