Conference Speakers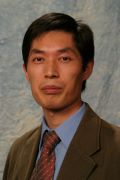 Tony Wu, Ph.D.
Senior Scientist, Owens Corning Science & Technology
BIOGRAPHY
Dr. Tony Wu is currently a member of the Senior Technical Leadership team (STL) at the Science & Technology Center, Owens Corning (Granville, OH). He has a Ph.D. degree in Materials Science and Engineering from The Ohio State University. He has more than 15 years of experience in the design, characterization, scale-up, and commercialization of composite and coating materials with metal, ceramic or polymer matrix. His technical expertise includes material design, coating development, materials characterization, surface science and failure analysis. He has published > 10 peer-reviewed technical papers, and is a holder of 2 OC Trade Secrets and 10 US patents with several more pending. Tony is also an active member in MRS and TAPPI.
---
Wednesday, September 27
1:00 pm - 2:30 pm
Advancements in Sustainable Nonwoven Applications
Innovative Green Binder Solution for Flooring & Industrial Applications
The flooring market, in both NA and EU, has a shifting demand toward more sustainable solutions. One of the input materials is glass nonwoven mats as the reinforcing layer in the backing. The glass nonwovens used to be UF-binder based solutions, from which flooring manufacturers are trying to stay away nowadays due to emission regulations. Owens Corning (OC) pioneered the development of a sustainable formaldehyde-free solution that delivers good thermo-mechanical properties. This innovative green binder solution is based on bio-renewable starch-derived maltodextrin (MD), cross-linkable with designated crosslinking agents, resulting in a nonwoven product with outstanding heat resistance, as measured by hot-dry tensile retention performance. Certain polyols and catalyst could be added to the system to boost the esterification reaction. The end result is that a sustainable glass nonwoven solution was created, which is capable of delivering the application requirements including high hot-dry tensile performance and excellent heat resistance, suitable for flooring and other industrial applications. The product has been certified by USDA as a BioPreferred solution in Fibers and Fabrics segment.