Conference Speakers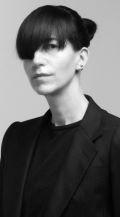 Maria Intscher-Owrang
CEO, Simplifyber
BIOGRAPHY
Maria Intscher-Owrang is the cofounder and CEO of Simplifyber; a Raleigh, NC-based fashion tech startup transforming fashion's supply chain into plant-based 3D manufacturing.
Before starting Simplifyber, Maria Intscher-Owrang was a luxury fashion designer for 24 years, working for well-known brands such as Vera Wang, Calvin Klein, Edun and Alexander McQueen, with special focus on women's avant-garde runway collections and sustainable fashion. Maria received her Master's degree from London's prestigious Central Saint Martins and her work has appeared in the covers and pages of the international press for two decades, as well as at the Metropolitan Museum of Art in NY.
---
Wednesday, September 27
1:00 pm - 2:30 pm
Advancements in Sustainable Nonwoven Applications
Simplifyber: The Future of Manufacturing Shaped Goods in Natural Fibers
Simplifyber has created a new category of manufacturing for apparel and shoes using specially-developed plant-based materials. It's a completely new supply chain. Instead of the usual process of starting with fiber, spinning yarn and making rolls of fabric, we take natural fibers and form them directly into soft 3D garments and accessories. Unlike other sustainable innovations currently on the market in the fashion industry, Simplifyber is unique in creating an end-to-end system that is specifically geared towards high efficiency and the mass market, with the end goal of displacing cheap, petroleum-based fabrics and making renewable, biodegradable clothing the most cost-effective (and therefore widely-used) option for clothing manufacturing.