Conference Speakers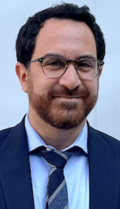 Hani Sherry, Ph.D.
CEO, TiHive SAS
BIOGRAPHY
Dr Hani Sherry is a French-Lebanese entrepreneur, cofounder and CEO of TiHive, a deep-tech startup founded in 2017 and funded by the European innovation council and BPI France. TiHive is the world leader in silicon-based Terahertz vision systems that are allied to deep learning and AI. TiHive's vision systems can see inside of materials at high speeds and in a safe manner, with applications focused on industrial quality control, security, and secure communications.
Dr Sherry has extensive experience in the radiofrequencies and the semiconductor industries, building and leading R&D teams developing Terahertz and millimeter waves imaging and radar systems, satellite communications, industrial sensing, as well as medical imaging.
He received a PhD in Terahertz imaging systems in 2013, as well as executive business and negotiations degrees from HEC Paris and Oxford Said Business School. He is a TEDx speaker, member of the Reseau Entreprendre, as well as the Association for the Progress of Management. Prior to founding TiHive, he worked at O2 Telefonica in the UK, and STMicroelectronics in France.
---
Tuesday, September 26
3:30 pm - 4:30 pm
2023 RISE® Innovation Award Presentations
SAPmonit
How to inspect a million diapers a week! Discover TiHive's game-changing innovation, SAPMonit – a visionary French technology breakthrough inspecting a million diapers weekly. Witness lightning-speed inline inspection of Super Absorbents weight and distribution, optimizing resources, detecting flaws, and accelerating R&D.
SAPMonit employs advanced see-through cameras, high-speed vision algorithms, and secure cloud integration, revolutionizing industry norms. Unleash SAPMonit's potential for sustainability, cost reduction, and enhanced customer satisfaction!