Conference Speakers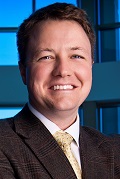 Jon Devine
Senior Economist, Cotton Incorporated
BIOGRAPHY
Jon Devine is Senior Economist with Cotton Incorporated. In this role, he conducts economic research, including cotton price analysis and a range of other industry-specific projects. Jon delivers market outlook presentations at conferences around the world and is in regular contact with many of the world's leading textile and apparel companies.
Jon is the author of Cotton Incorporated's Monthly Economic Letter and Executive Cotton Update. His research is regularly featured in a range of trade publications and he has been quoted by leading news organizations including Bloomberg, Forbes, the Wall Street Journal, and the Financial Times. Jon is a regular feature on RFD TV and his commentary is consistently presented on agricultural radio networks across the country.
---
Tuesday, September 29
9:00 am - 9:45 am
Dynamic Markets & Future Smart Machines I
Picking Up the Pieces: The World After COVID
The speed, severity, and global scope of the COVID-19 pandemic is unprecedented. As health-driven fears recede, the global economy can begin to pick up the pieces and start to form the recovery that will shape our new normal. The purpose of this talk is to explore insights gleaned from economic data and to discuss scenarios for the outlook.